Mini Refs Limited - The Directors

Below is a little more information about the Directors of Mini Refs Limited.

Mark Ford

Our first Director is Mark Ford. Mark started refereeing in 1989 after a career of playing semi-professional football. Mark played for various clubs such as Malden Vale (now known as Raynes Park Vale), Dorking and Molesey.

Mark decided to take up the whistle after sustaining an injury which meant he could not pursue a career as a professional footballer. Mark is currently a Level 4 (Contributory Match Official) and has been for the last 12 seasons. Along his career in refereeing Mark has officiated many honourable games such as County Cup Finals, Womens' FA Cup Semi Final, Contributory Play-Off Final...just to name a few.

Prior to Mini Refs being formed, Mark was organising referees' for summer tournaments for the last 5 seasons.




Lewis Gordon


Our second Director is Lewis Gordon. Lewis started refereeing in 2001 after officiating some school games at the secondary school he attended. Lewis has worked his way up to Level 5 (Senior County Referee) and officiates on Suburban and Combined Counties Football Leagues.

Some of Lewis's honourable games have been County Cup Finals, Grant McCellan Youth Cup Semi-Finals and Final, FA Cup Preliminary Round, FA Youth Cup, Championship Play-Off's and Relegation Deciders. Lewis is the only referee who has officiated both Semi-Finals and Final of the Grant McCellan Youth Cup in the same season!

Lewis is also a FA Registered Assessor.

Over the last several seasons, Lewis has been assisting Mark in the running of the tournament referees.




Jason Lidbetter





Jason is our newly appointed Director, he has been a referee for 6 years and continues to enjoy it season after season. Jason never made it as a footballer, but did play a small part in many games for a few teams. Jason did play for Epsom & Ewell in his youth days, and his claim to fame was playing a Highbury (Arsenal FC old ground) as a Goalkeeper for JVC.

After his playing days had come to an end, Jason studied to become a referee to continue his involvement in the game. He now shares his knowledge of the game with his fellow colleagues as a part of the team at Mini Refs.

Jason's appointment has come at a good stage in the Company, after its first successful year in operation.




Roger Brown





Roger is our newly appointed 4th Director.

Roger came down from Scotland, as a 15 year old, played a series of trials @ London Coliny for the Arsenal & was signed up as an apprentice. Unfortunately he had an leg operation in his 1st year & was told that his leg would not stand up to professional football. He did not play for 5 years before playing amateur football for Ashtead .When his son was playing in the Surrey Youth League they always struggled to find a Referee & Roger was asked to 'pick up the whistle' so to speak and has gone on to become a Level 5 (Senior County Referee).
He has been officiating for 11 years in the following leagues:
Surrey South Eastern Combination, Surrey Elite Intermediate League, Amatuer Football Combination, Morden & District Sunday League, Surrey Youth League, Chelsea & Fulham Academy & most recently Crystal Palace Academy.

Roger was also involved, as Treasurer, with his local Referees Society namely Sutton & District for 4 years. He has been fortunate during the past 6 years to have been honoured with the following prestige appointments:
Morden & District Sunday League, Edgar Hemmingway Cup Final, Surrey County U18 Cup Final, Surrey Youth League U17 Final, Frank Jones Cup Final to name just a few.

It was decided that there was a market for someone to assist clubs in organising referees for tournaments. With legislations as high profile more now than ever, especially with CRB Verifications, Child Protection Workshops, Respect Programme all coming in, there is more to do now with referees' than picking up the phone and asking whether they are available to referee on a tournament.
Mini Refs strives on its professional attitude to ensure the highest level of refereeing standards on all tournaments. We have built a very strong relationship with current club officials, managers and Senior Authorities to ensure the full support and backing where refereeing is required.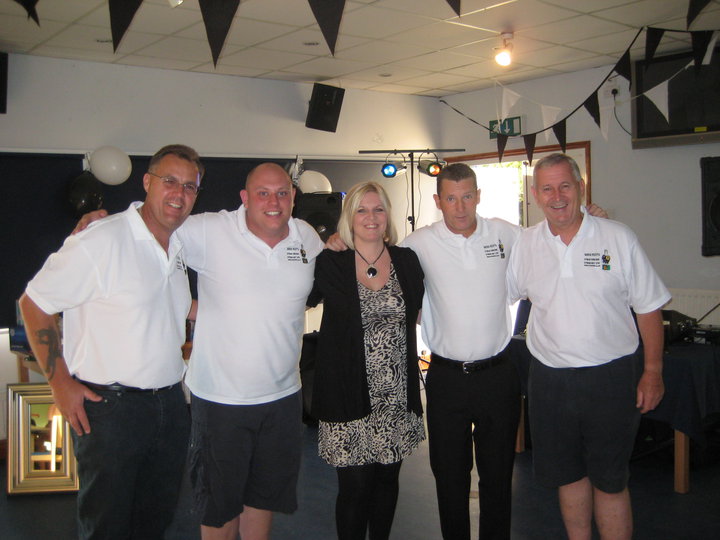 Directors Jason Lidbetter, Lewis Gordon, Mark Ford and Roger Brown with Mini Refs founder, Sandra Wright

Contact our Directors
Contact Lewis Gordon Contact Mark Ford

Contact Jason Lidbetter Contact Roger Brown